Description
With the qualities of both the Galaxy and Galaxy Plus we have developed a new scooter with a completely new look: the Galaxy II.
The Galaxy S II is equipped with all the qualities of the Galaxy: an adjustable backrest that can be adjusted to individual requirements, a user friendly and intuitive dashboard with tip-touch control, the option to be left / right to operate and a removable basket to front. Relatively long range and power efficient use this scooter like the Galaxy your ideal partner when doing errands or for excursions!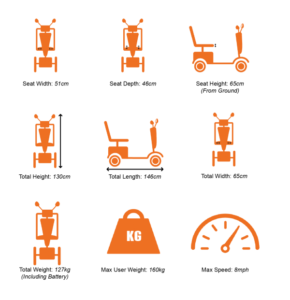 Maximum speed: 8 mph
Range: 56 km (35 miles)*
Turning radius: 63.3″ (161 cm)
Ground clearance: 5.1″ (13 cm)
Battery: 2 x 12V/90Ah
Charger: 24V/8Ah
Maximum user weight: 160 kg (25 Stone)
Available colours: Shiraz Red, Gun Metal Grey, Emerald Green, Lightning Blue, Midnight Black, Dark Storm* and Rapid Ocean* (Limited Edition Colours)*
*Please Note: Mile range varies depending on weather and terrain conditions.
Features
Non-slip foot mat
Angle adjustable tiller
Height adjustable headrest
Multi-function LCD tiller display
Full LED lighting system and design
Adjustable seat height and backrest angle
360 degree rotating Captain seat chair
Removable front shopping basket with carry handle
Height and width adjustable flip-back removable armrests
Finance available and available on the Motability scheme